I don't know about you, but suddenly we are at the 1st day of Spring and I am wondering how we got here! This is the time of year that we start planning projects for summer and of course, spring cleaning. Keep reading for a chance to win a mini-spa day (details at the bottom!)
 But. We are in Wyoming. So that means we go back and forth between warm days and cold days (i.e. SNOW)
Lucky for us, those snowy cold days are perfect for being indoors and doing some spring cleaning from the inside out!
Some quick tips for getting ready:
* Stock up on what you need:
      microfiber cloths
      cleaned vacuum (did you know there are vacuum repair            shops in Cheyenne that also service your vacuum?       
      Blakeman Vacuum, Cheyenne Vacuum & Authorized
      Vacuum!)
      all-purpose cleaners
      rubber gloves
      dry mop
      bathroom cleaner
* Go Room by Room
This is my favorite tip for starting with spring cleaning. It
can be overwhelming to clean an entire house in one day.
start with 1 room and keep going as time allows! Better yet, put on a timer and see how much you can get done in 15-30 minutes for those of us that are way too busy this time of year! Take it one step further and hire a company to clean for you or even organize. Jazzy's Cleaning Service can help with cleaning, and for organization, call Sarah McKinney, Professional Organizer!
* Spring Self Care
Sometimes we need to declutter ourselves too! That's why we are giving away a chance for you to win an afternoon to "Unplug" here in Cheyenne on March 31st, which includes a mini-massage, mini-facial, foot soak & exfoliation, & a brow wax/shaping, hosted by BeYu, Reflexions Salon, & Arbonne! 
To enter, go to our Facebook page here. Like our page if you haven't already, Like the Post, and then Share the post. You get an entry for each thing that you do! *Must be 18 & older to win!
Good luck in decluttering and welcoming Springtime! Get your Mary Poppins on!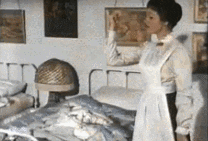 Please reload