Mmmmmmmmmm grilling. Whether it's beef, chicken, vegetables, or literally anything else, nothing says summertime like food hot off the grill.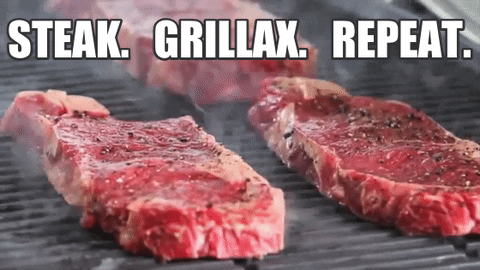 While we all love to grill, there are some important safety tips for anyone who enjoys the smoky taste! (Keep reading after the tips for a yummy BBQ sauce recipe)
1. Grill outside (duh) and away from structures. This is especially important for renters in apartments. Don't grill on your balconies! Make sure you are moving your grill at LEAST 20 feet away from the property. 
2. Make sure your grill is stable & also clean. Have you considered using a grill mat below your grill to ensure any drippings are not on the ground? They are easy to clean and come in a variety of styles. (perfect Father's Day gift - hint. hint.)
3. Check for propane leaks (if you use gas), and be careful with charcoal starter fluid (if you use charcoal). Definitely don't mix the 2 types. Smokers, gas grills, and charcoal all need your attention so keep an eye on it at all times.
4. Be ready to put out a fire, with baking soda or a fire extinguisher on hand. 
Now for the good stuff. My favorite BBQ sauce recipe is from the Homesick Texan cookbook (find it here). This recipe is spicy, smoky, and sweet which is everything a BBQ sauce should be. Did I mention coffee? I should have mentioned coffee. It has coffee. Coffee coffee coffee.
Chipotle-Coffee BBQ Sauce:
1 teaspoon canola oil

1/2 half a medium onion, chopped

4 cloves garlic, minced

2 cups ketchup

1/4 cup yellow mustard

1/4 cup molasses

1/2 cup chopped cilantro

1/4 cup brewed coffee

2 canned chipotles chiles, chopped

2 teaspoons Worcestershire sauce

1/4 cup lime juice

Salt

Black pepper
To make the chipotle-coffee barbecue sauce, heat the oil in a saucepot on medium and cook the onions for 10 minutes or until translucent. Add the garlic and cook for another minute. Add the ketchup, mustard, molasses, cilantro, coffee, chipotle chiles, Worcestershire sauce, and lime juice. Turn down the heat to low and cook for half an hour, stirring occasionally. Transfer the sauce and puree until smooth. Taste and add salt and black pepper. The sauce will keep in the refrigerator for 2 weeks.
Until next time, stay safe grillin' & chillin'! 
Please reload